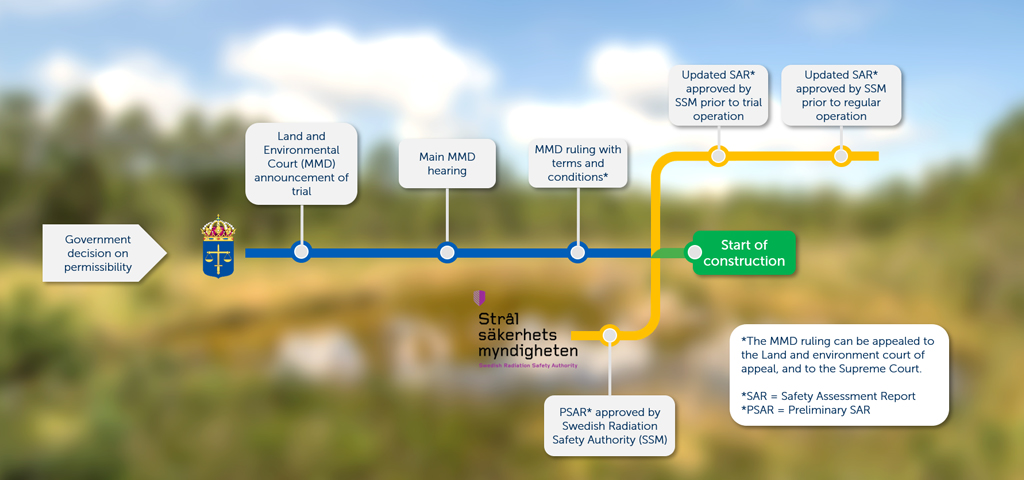 SKB's licensing processes
SKB's licensing processes
Following the Government's decisions, the licensing processes for the final repository system for spent nuclear fuel and for the extension of the final repository for short-lived radioactive waste (SFR) continue.
On 27 January 2022, the Government granted SKB a licence to build a final repository for spent nuclear fuel in Forsmark in Östhammar Municipality and an encapsulation plant in Oskarshamn. Shortly before this, on 22 December 2021, the Government decided to grant a licence to extend the existing final repository for short-lived radioactive waste (SFR) in Forsmark.
Since last summer, there has also been a Government decision on a licence for increased storage in the Clab interim storage facility in Oskarshamn. The storage issue for Clab is being dealt with in a separate process, after the Government decided to detach it from the application for a final repository system for spent nuclear fuel.
Following the Government decisions, the cases have now returned to the Land and Environment Court and the Swedish Radiation Safety Authority (SSM), which will set detailed conditions for the future operations.
Judgement from the Land and Environment Court
Following the Government's permissibility decision under the Environmental Code, the Land and Environment Court will impose conditions for the operations. The terms and conditions will be negotiated and then established in a judgement.
Conditions under the Nuclear Activities Act and step-by-step checking.
SSM will decide on licensing conditions under the Nuclear Activities Act and the Radiation Protection Act following a Government decision. The Authority will also continue to check whether SKB meets current requirements on radiation safety. This will take place in stages, and means that SKB will need to prepare new safety reports prior to the start of construction, trial operation, regular operation, decommissioning and closure.
The amendments made to the Nuclear Activities Act in 2020 have clarified that the state will assume responsibility for final repositories after their final closure. At the same time, there was an addition to the Act to the effect that a special Government licence is required for closure.
During all phases of the facilities' life cycle, the Authority will also conduct inspections in respect of both radiation safety during operation and long-term safety.
Oskarshamn and Östhammar
For each facility, it is also a requirement that the municipality concerned must make decisions on detailed development plans and building permits.