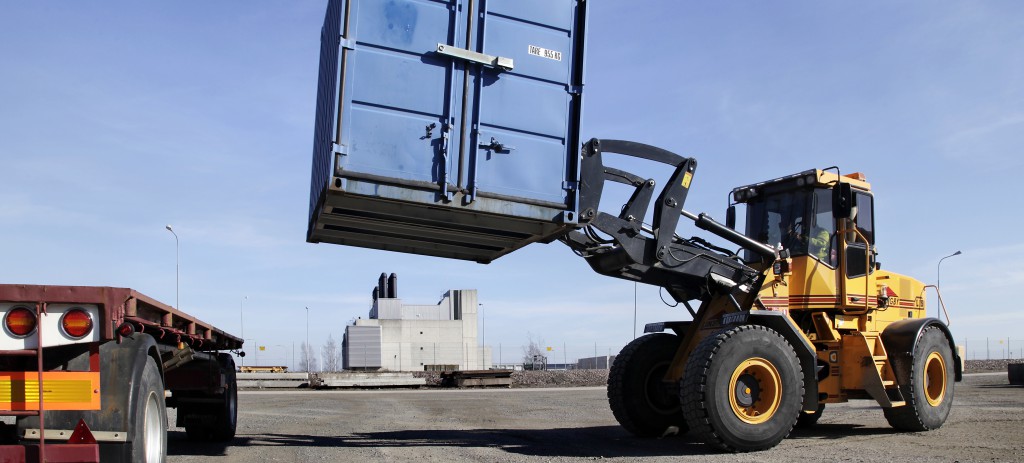 Mats Kastberg, a sub-contractor from Korsbrons Åkeri AB, working at the Final Repository for Short-lived Radioactive Waste, SFR. Photo: Lasse Modin.
For suppliers
For suppliers – procurement
SKB's procurement unit ensures that our procurements are undertaken in a commercial and efficient way. The aim is to attain the most competitive terms and the choice of supplier is made on objective grounds.
SKB's vision is to set a national and international model for the work of dealing with radioactive waste. Society must be able to place great confidence in the way we work, our methodology, our research and our technological development.
Participation in the UN's Global Compact and applying its fundamental principles in areas such as human rights, labour market law, the environment and the fight against corruption are for us a way of demonstrating the company's corporate social responsibility (CSR). This responsibility applies throughout the entire value chain in our operations and also includes our suppliers.
We therefore request all of our suppliers to support the ten principles in the UN's worldwide Global Compact initiative as it is explained in our code of conduct for suppliers.
Code of conduct
The code of conduct for suppliers specifies the minimum standards expected of all of SKB's suppliers. SKB also expects suppliers to apply these minimum standards for their sub-contractors and suppliers within their sphere of influence. In addition, suppliers are expected to endeavour at all time to use the best international methods and the best methods within the sector.
Suppliers are naturally expected to comply with all statutes and other regulations in the countries in which they operate.
Current and planned procurements
Here you can find SKB:s current and planned procurements the next 18 months indicating the closing date for submission of tenders.
Please note that the submission date might be updated, and therefore shall be regarded as preliminary for the planned procurements. New procurement needs can arise at short notice, which means that these are not included in the plan.
Please note that SKB is not governed by the Acts of Public Procurement. All information is preliminary and might be subject to changes.